In the past, women with hijab were often seen as not following fashion trends because of their appearance.
Well, now this has changed the trend of hijab fashion has started to rise.
But of course, this hijab fashion trend must match your personality.
Now the hijab fashion, much favored by Muslim women in the country.
The fashionable model and very comfortable to wear, make women like today's hijab clothes. The most popular hijab fashion is the casual hijab fashion style. Especially for you who really do not like complicated and want to look relaxed. Here will discuss some casual hijab fashion tips for those of you who want to look relaxed.
1. Culottes paired with a basic blouse look simple and still cool.
Fashionable doesn't have to be fancy. You can wear a Pashmina hijab with a simple model and pair it using a basic blouse and culottes pants. Culottes pants have also recently become hits in the fashion world. Wide model is also very suitable for you who wear the hijab. Choose the right shoe model to make your appearance look more casual. Don't forget to use a sling bag to enhance your appearance.
2. Cardigan with a deep white shirt can be paired with jeans also look Awesome.
The next casual hijab fashion, you can wear a cardigan to look more relaxed. You can match with jeans or to make it look more cheerful you can wear subordinates with a pattern. Match the motif with the color of your shoes. If you wear jeans, you can wear a cardigan with a white shirt to make it look casual. Wear a necklace to make your appearance look more memorable.
3. The white tunic is paired with soft colored pants to make it look girly.
You can wear a simple hijab using Pashmina or a rectangle that is only pinned with a pin and then the right and left at the same length. After that, it rests on the shoulder. You can match it with modern white tunics and soft subordinates. Your appearance will look more trendy and casual. Wear high heels shoes that are not too high or you can also use flat shoes.
4. Match jeans jacket with skirt subordinates to make it look stylish.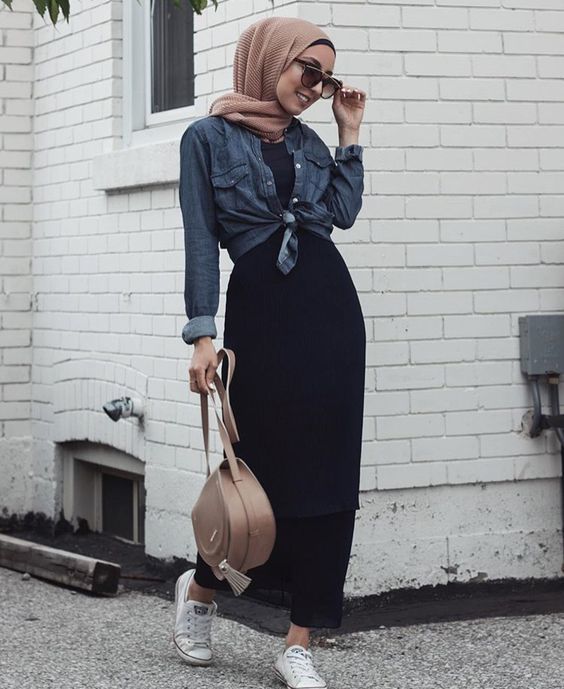 You can wear a blend of the skirt with a jeans jacket. Clothing made from jeans does not die. You can match a jeans jacket with anything. For hijab, you can use Pashmina or quadrilateral to suit your taste. Use neutral colors with a simple order. Wear sneakers to make it look more fashionable. Don't forget to use one of your sling bag collections to make it look even cooler.
5. T-shirts combined with jeans never look bored
For you hijab lover, wearing a T-shirt will never look boring
. Especially if you are smart to match it. You can match your shirt with jeans. Any type of jeans will look good. Use hijab as simple as possible with matching colors or soft colors. We
ar your favorite sneakers to make it look more catchy.
Those are some hijab fashion for you who like relaxed style. To look stylish does not have to be in splendid clothes. You can look trendy with the appearance as simple as possible. And more importantly, look in accordance with yourself. Don't follow other people.
Hope you can inspire, girls!